Taliban seeking to have ties with all countries
By XU WEIWEI in Hong Kong | China Daily | Updated: 2021-08-23 09:57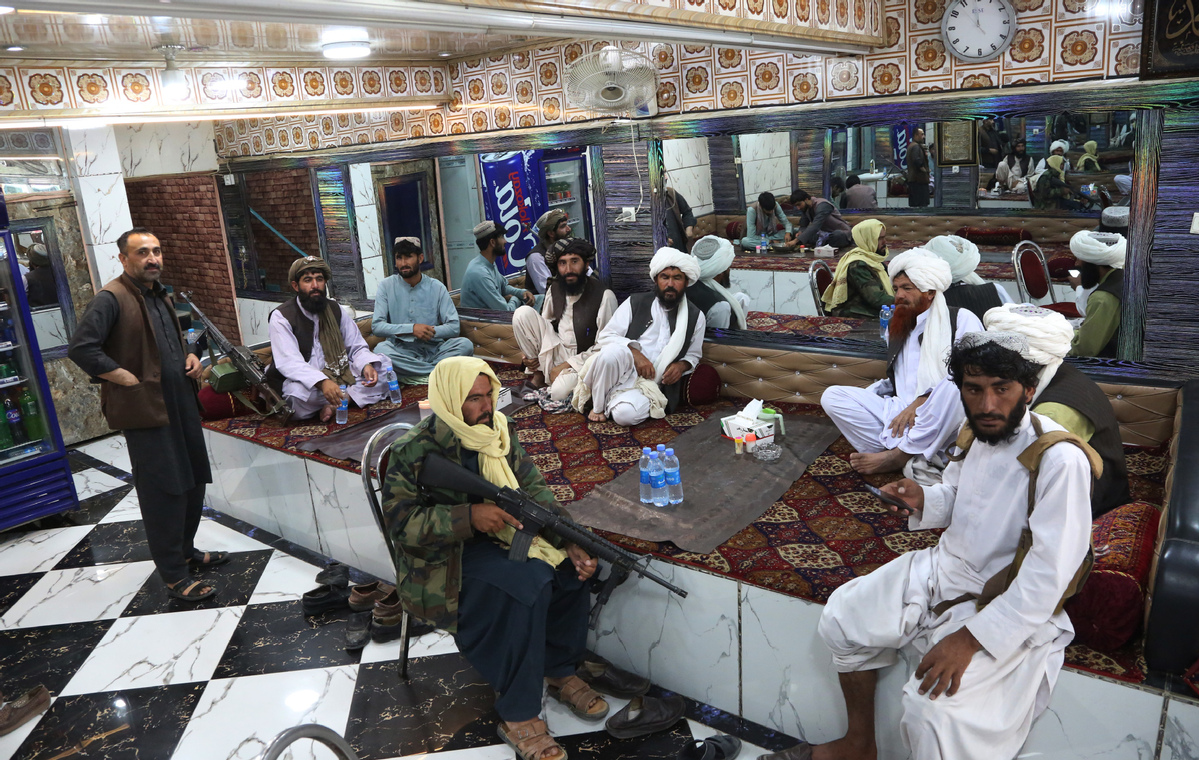 New image projected at home and abroad as leaders talk of conciliatory approach
The Taliban are seeking to win support from the international community in recent conciliatory statements from the group.
They have expressed a willingness to open ties with all countries and pledged to establish an inclusive government that upholds the rights of women and others. Foreigners would also have their rights protected.
"The Islamic Emirate of Afghanistan wants diplomatic and trade ties with all countries, particularly with the United States of America," tweeted Mullah Abdul Ghani Baradar, political chief of the Taliban, on Saturday.
Like Baradar, other major Taliban officials are using social media to communicate a positive message, aside from their discussions with Afghan political and military figures. Experts say such overtures are helping with the new image that the Taliban want to project.
On Thursday, Taliban spokesman Zabihullah Mujahid posted on his Twitter account a picture of a flag and coat of arms, and announced the "declaration of the Islamic Emirate of Afghanistan on the occasion of the 102nd anniversary of the country's independence from British rule".
On Saturday, Muhammad Naeem, a spokesman for the Political Office of the Taliban in the Qatari capital Doha, tweeted that a Taliban delegation met with political figures in Kabul, assuring them of their security and safety.
Amina Khan, director of the Centre for Afghanistan, Middle East and Africa at the Institute of Strategic Studies in Islamabad, said the Taliban have made an effort to reassure Afghans that there will be no victimization of people and that life has to continue.
Much like people in some other districts, many in Kabul were fearful when the Taliban entered the capital on the previous weekend. But, by Sunday, more people were taking to the streets for normal business, according to CGTN reports, though they added that the peripheries of the capital's airport remained in chaos.
Salman Bashir, a former Pakistani foreign minister, said the Taliban had kept their understanding with the United States and not interfered with evacuations from Kabul's airport. They also pledged not to allow the country to be used for terrorism. So far, they are working toward the goal of an inclusive government, he said.
Bashir said they "abide by a code of honor, a set of core Pashtun values in which honor is uppermost".
Imtiaz Gul, executive director of the Center for Research and Security Studies in Pakistan, said the hearts and minds strategy has been a key factor in the Taliban's rapid military success in Afghanistan.
The group's talks are continuing with Afghan political heavyweights, including former president Hamid Karzai, and Abdullah Abdullah, who had led the ousted government's negotiating council. The Taliban have said they want to form an "inclusive, Islamic government".
Hashmat Ghani, brother of former president Ashraf who fled the country last week, said on Saturday that Afghans need to accept Taliban rule. He told the Al Jazeera network that it is necessary to accept the Taliban's takeover of Afghanistan to avoid instability.
After taking over the country, the Taliban on Aug 17 vowed to respect women's rights, pardon the people who fought against them and ensure that the country does not provide cover for terrorists.
Gul said: "I would say that Taliban have simply shocked and surprised most of their critics, who have been alarming the world about the return of the years of Taliban from the 1990s when they were radical and did not allow women."
'More mature'
"But with the decree or order on women and human rights, I think they have demonstrated that there is a change or transformation for them to be more mature, forward-looking and respecting."
Gul said the Taliban demonstrated how they have changed by requesting that all women return to their jobs. Gul also cited the continued presence of female news anchors on popular television station TOLO.
But, as Baradar acknowledged, the challenges have just begun. A new government will have to address differences among the tribes and political groups.
Khan also said it is important to get a clear understanding of what "victory" means for the Taliban.
"Taliban victory is all one hears," she said, "Victory will only come once the Taliban win the support of Afghans by fulfilling promises of peace and stability, national cohesion, safeguarding rights of all-an inclusive, responsible and accountable Afghanistan-that is victory."
She urged the US not to shirk its responsibility toward Afghanistan.
"Americans who created this mess in the beginning have a responsibility for a responsible and measured exit, and to ensure there's some semblance of stability, which means an inclusive political setup," Khan said.
Xinhua contributed to this story.