Half-court game goes full press
Share - WeChat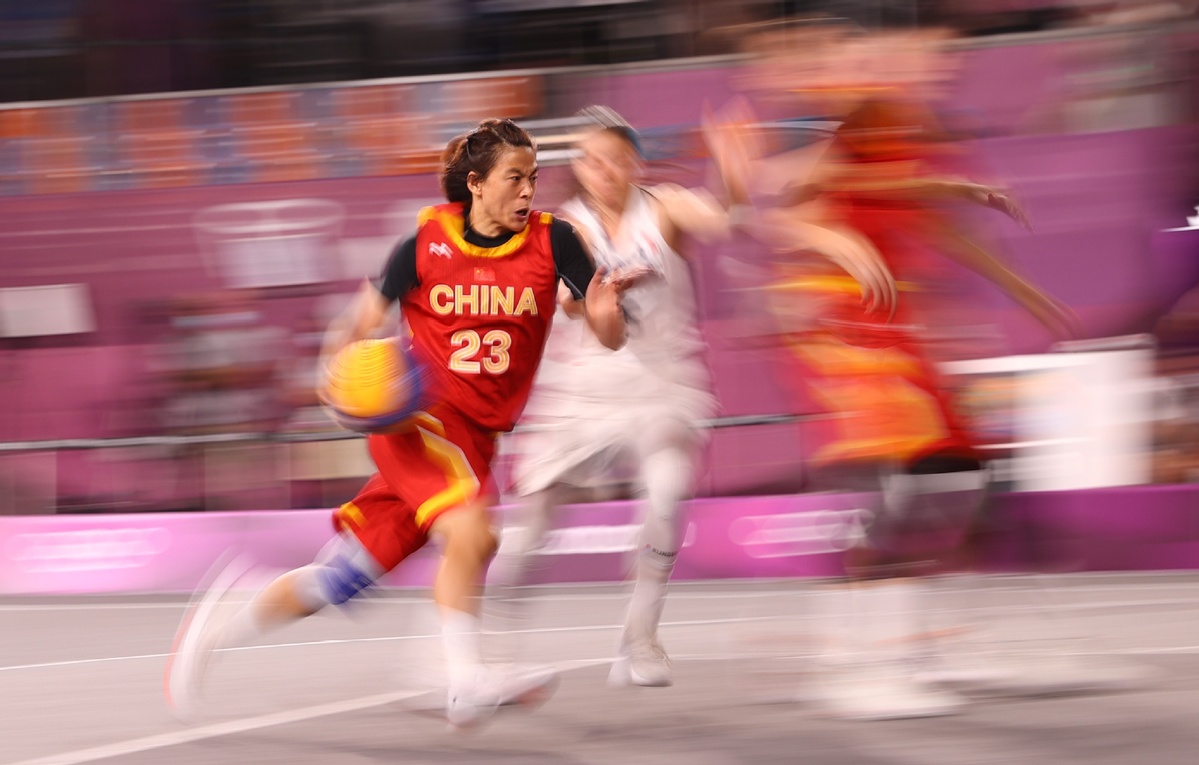 Buoyed by its bronze medal-winning campaign at the Tokyo Olympics, China's 3x3 women's basketball team is confident the half-court game can go from strength to strength in the hoops-loving nation.
Citing the sport's huge grassroots potential, head coach Xu Jiamin says his team's breakthrough at the Games is sure to inject fresh momentum into an already healthy talent development system.
"Hopefully, this bronze medal will inspire more hoopsters from all levels and versions of the sport to dream big," Xu said in an online interview on Friday.
"I am very confident that it will attract more quality players to give the game a try, and encourage more fans to grow interested in it. It's a game-changer for the promotion of 3x3 in our country."
Team China won seven of its 10 games over the course of five days in 3x3's debut at the Olympics, with a 16-14 victory over top-ranked France securing bronze on July 28, following a semifinal loss to the Russian Olympic Committee.
It was China's first Olympic medal in basketball since the five-a-side women's squad won silver at the 1992 Barcelona Games.
The achievement went a little way toward easing the lingering disappointment felt by Chinese fans over the higher-profile men's five-a-side squad's absence from the Olympics for the first time since 1984.
"We achieved great results at the Tokyo Games but we will definitely not rest on our laurels," said Xu, a 36-year-old Shanghai native and a former coach of the city's five-aside youth team.
"We are not satisfied yet, knowing that we could be better prepared and play at a higher level at future events."
Xu built his team around center Zhang Zhiting, a member of the title-winning teams at the 2019 World Cup and 2018 Asian Games. In early 2020, he drafted three players from the five-a-side WCBA league-veteran Wang Lili from Xinjiang, young forwards Wan Jiyuan from Zhejiang and Yang Shuyu from Guangdong.
Despite being relatively new to the nonstop, fast-switching 3x3 game, the quartet gelled during a year and a half of isolated training, combining experience with youth, creativity with fundamentals, and power with sharpness.
Two wins over top-seeded France, and a narrow two-point loss to heavyweight the United States in Tokyo massively boosted the Chinese players' confidence that they belong to the top echelon of the sport.
"The Olympic journey helped us better position ourselves in the world, giving us a clear sense of our advantages and weaknesses," said center Zhang, who led the Olympic tournament in offensive rebounds, with 19.
Veteran playmaker Wang echoed those sentiments, saying the squad learned the most about itself in the two defeats to the ROC team.
"We need to execute our game plans better, and improve our conditioning to deal with tougher physical confrontations on the world stage," said Wang, 28, who ranked second in the Tokyo 2020 player ratings behind American Gray Allisha.
"In the high-intensity, fast-paced game of 3x3, it's really critical for players to be able to improvise instantly and make the correct play in a flash.
"We will stay hungry and competitive and we need to improve our all-round game individually and collectively to chase after higher goals, perhaps a gold (at the 2024 Paris Games)."
An adaptation of street hoops, 3x3 is the most popular basketball format among Chinese youth due to its accessibility and the lesser requirement for court space.
In a country where 300 million people regularly hoop as a hobby, according to a CBA report, it's only a matter of building the right pipelines to channel grassroots participation to the elite level for 3x3 to flourish, said coach Xu.
"We are not short of talent, either from the amateur tournaments or the professional ranks," explained Xu.
"It's important to develop a talent development system that connects the numbers at the grassroots with the quality training in the national program. We've made some efforts in this regard and it takes time to make it work."
As a trial for developing a 3x3 domestic league of its own, the WCBA introduced a parallel tournament for the half-court version during its 2020-21 campaign, with all 18 clubs required to play 3x3 games the day after their regular-season five-a-side games.
"The domestic competition between the league clubs and between pros and amateurs at some other open tournaments will only benefit the talent recruitment and development for our future programs," added Xu.
3x3 games are often staged at iconic urban locations, with the high-octane action accompanied by a booming hip hop or pop music soundtrack.
Played on a half-court with one hoop, the game features a 12-second shot clock, half the time used in the NBA and regular FIBA competitions.
Shots made outside the traditional 3-point line earn two points, and those inside count for one point.
Teams switch from defense to offense straightaway after scores or after clearing the ball to outside the arc following a rebound.
Traditional five-a-side roles such "shooters", "playmakers" or "rebounders" do not apply so much in 3x3, with the game suited more to players with versatile skillsets.
According to FIBA, 182 countries and regions participate in international 3x3 competitions, and players worldwide total in excess of 430,000.
Most Popular
Highlights
What's Hot