All you need to know about Jiangxi rice noodles
Share - WeChat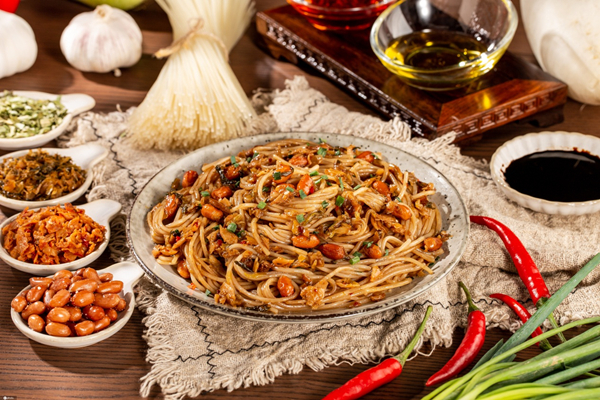 In East China's Jiangxi province, noodles are more than just a dish -- they're practically a way of life.
In fact, most people here start the day with a bowl of rice noodles.
Such is the popularity of this dish that some locals have even compared having a bowl of rice noodles garnished with pickled radish and peanuts in the morning to savoring freshly harvested sea urchins from Hokkaido.
Official statistics show that Jiangxi, which is home to nearly 30,000 rice noodle restaurants, produced more than 1.4 million metric tons of rice noodles in 2020. Exports of rice noodles from the province accounted for more than 60 percent of the national total.
This dish appears to be just as popular among people from other parts of China. Data from food delivery platform Ele.me and online marketplace Tmall show that people aged between 18 and 24 make up about 33 percent of consumers who order instant rice noodles and takeaway meals online. The percentage rises to over 65 percent for consumers under 30 years old.
"Savoring such specialties is one way to gain an authentic experience of local culinary culture," said Fu Xiaoru, deputy head of the Jiangxi provincial center for grain and oil, science and technology innovation and material reserves, adding that more efforts should be made to cultivate a batch of leading businesses and well-known brands while exploring the stories behind Jiangxi rice noodles. The charm of this humble dish comes from its storied past and the multitude of flavor possibilities it has – the noodles are prepared differently in each of Jiangxi's 11 cities.
Most Popular